Microbiological cleanliness analysis
---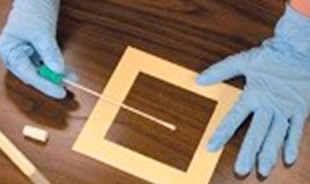 Control of microbiological cleanliness of the object - taking swabs
The microbiological cleanliness of food handling facilities in terms of businesses that deal with food is determined by methods involving swabs, prints or rinses to determine the number and type of bacteria on the surfaces of plants, equipment, devices, utensils, means of transport and hands of persons involved in production and transport.
The location, number and frequency of sampling to control microbiological cleanliness depends on the scope and type of production or provision of services.
The minimum number of samples for the control of microbiological purity according to the scope of business is shown in the table:
TYPE OF OBJECTS

MINIMUM NUMBER OF SAMPLES
1.
Industrial facilities for the production of food and items of general use with more than 50 employees
at least 15 samples
2.
Industrial facilities for the production of food and items of general use with up to 50 employees
at least 10 samples
3.
Catering facilities such as hotels and restaurants and facilities from the field of health, education, social care (kindergartens, schools, nursing homes)
at least 10 samples
4.
Facilities referred to in Article 39 a, paragraph 1 of the Act on the Protection of the Population from Infectious Diseases (NN 79/07; 43/09)
at least 5 samples
The stated control of microbiological cleanliness in facilities is carried out in accordance with the Ordinance on the frequency of control and norms of microbiological cleanliness in facilities under sanitary supervision (NN 137/09)
In addition to the defined parameters, it is possible to perform surface tests for the detection of specific pathogens such as Listeria spp. or Salmonella spp., which is particularly important in food production facilities.
The method by which sampling is carried out is: HRN ISO 18593 - Microbiology in the food chain - Horizontal methods for surface sampling procedures.